To participate on our message boards you must register for either a Fan account (free) or Insider account ($4.99/month). Once registered, you can login via the link above the site logo at the top of the page or through the link here within the message boards.
To register for a free account to access the message boards, click here. To become an Insider and get full site access, click here.
Roster Musings
Trevor Bauer has reportedly signed a 3-yr, $102MM deal with the Dodgers, which pays him $40MM in '21 and $45MM in '22, with opt outs after both years, and which will apparently make him MLB's highest paid player in those years.

Trevor Bauer signing with Los Angeles Dodgers, set to be MLB's top earner in 2021, '22, sources say (espn.com)

It's not being reported as such, but I think the $17m number in 2023 is essentially an accounting trick to lower the overall AAV for Luxury Tax purposes. So I would consider it essentially a 2 year deal.

The question now is whether Bauer will opt out after 2021, but there's so much uncertainty now that prognosticating it is essentially useless. No idea with pandemic stuff, labor unrest (possibly including a strike), and Bauer's general unpredictable nature. 

Bauer did claim in a previous interview that he bet a friend that his friend could shoot him in the nuts with a paintball gun from 10 feet away if he signed a multi year deal. So I'm hoping that ends up on video. 

 
I agree with you about the accounting trick.  You usually don't see this kind of thing in baseball, but it's done in the NFL quite often.  I'd be surprised if Bauer opted out after '21, but I suppose it depends on (1) the state of baseball at the time; and (2) how well Bauer pitches this season.  If the pandemic is in the country's rearview mirror and he pitches as well in '21 as he did in '20, he might be in a position to become baseball's first $50MM man.  Another reason that Bauer might opt out is if he finds out that the Dodgers aren't as open to his pitching and training ideas as he apparently believes they currently are.
ESPN'S Doolittle putting Johnson in the lineup and not A Rosario is a mystery. With the production the Indians received from their OF in 2020 wouldn't you think Johnson would play more than 5 games if well thought of as an option in 2021?
DD your accurate on Lindor. With men on if  he could lay off pitches well outside the zone, especially inside and low, he'd be a terror.
I wouldn't ordinarily link an article about a former player, but this one from Ben Clemens of Fangraphs provides good analytics, but it also offers a rather mean-spirited critique of Bauer himself, referencing his use of social media to demean targets of his commentary, most always women.  I'm somewhat oblivious of Bauer's use of social media, so it's difficult for me to have an opinion of one person's assertion, other than observe that they were surprising.  Here's the link for those wishing to read the article.
Dodgers Sign Trevor Bauer To Three-Year Deal | FanGraphs Baseball
The Bauer/Dodgers union is in some ways a sign of things to come. I have my criticisms of Bauer, but I think he's also dead on about players insisting on shorter contracts with higher AAV. And the Dodgers going this route is going to be a new business model.
The idea has always been that truly elite players like Harper, Machado, Pujols, ARod, Miggy, and Trout were signing long term contracts with the idea that everyone knew they wouldn't be that good at the end. Nobody expects Pujols to still be good in his 40s. But with that means that essentially the teams are valuing their near future seasons much higher than the $25/30m they're getting. Bauer's assertion is that you could get $40m+ on a shorter deal. And apparently such a deal was also offered to Bryce Harper. They're going to keep doing these offers.
Obviously, no team outside of the handful of biggest markets can afford to pay one guy $40m+, something like a third or half the payroll. If more free agents do this, it essentially makes the Dodgers (maybe the Yankees/Red Sox if they come around to the idea) as the only team that can sign those types. It also protects the Dodgers from nightmare contracts. 
We've seen the Pujols contract hamstring the Angels. We've seen multiple bad contracts sink the Tigers for a half decade. The Orioles are still struggling to crawl out from their bad deals to Chris Davis and others. The thing is, the Dodgers have no such scenarios. Even if Bauer is awful, he's only there for a couple of years. And they have other depth, because they still maintain a strong farm system. There is essentially no reason the Dodgers won't win the next 10 NL West titles. They're using the Rays' small market competitiveness playbook (Friedman being the key to that) with the largest payroll capacity in the league. They can just reload and keep reloading. And they're currently having Dustin May, the dude with the demonic 2 seamer, possibly starting in AAA because the rotation is full. 
So for smaller market teams, the choice is either commit to multiple bad seasons paying an aging guy $30m+ after a brief window of contention (by signing a long term deal that you know will suck on the back end), commit to being a one player team like Trout and the Angels (where your team will lose), or simply lose your best players as soon as they hit free agency.
Whatever little thing you think of to get an edge, the bigger teams will just copy or buy away. Like the Dodgers getting Friedman, or the Yankees picking up Blake from the Indians as their pitching coach. The Bauer contract is the Dodgers finally flexing their financial advantage hardest, and unless something changes in the next CBA, I only expect their position to strengthen.
The only problem I have with Bauer's contract is the averaging technique that allows the Dodgers to pay Bauer $40MM in '21 and $45MM in '22 but only be charged $34MM for purposes of calculating it's payroll for luxury tax purposes.  Hopefully that can be addressed in the next CBA, but I'm skeptical given the current relationship between MLB and the MLBPA.
Baseball is my favorite sport, but MLB and the rampant stupidity that goes with it are trying their best to destroy my love of the game. The elimination of the NYPL is one of many things contributing to my ever-decreasing passion.  And the Bauer signing is emblematic of another.  I have loyalty to my team and it's players, but neither the teams nor the players share my sense of loyalty.  Bauer is a true mercenary, a gun for hire to the highest bidder.  Of course, he's not alone, there are countless others.  And a player like Carrasco signs a team-friendly contract, only to be traded away.  It's increasingly obviously a cutthroat BUSINESS, with little resemblance to the GAME I've loved for my entire life.  Bauer can get out of his deal after one year - the next hurdle will be for contracts to not be "year-to-year" but "game-to-game"!  Linder plays for the Mets today, Dodgers tomorrow, Yankees the day after.  Bauer pitches TO him today, then shares the same dugout the next. 
I wanna puke. 
The  year-to-year form of Bauer's contract shouldn't be a surprise to anyone.  He's been telling people for year's that that was his intent.  And while his salary is a bit higher than I would have anticipated, it's not that far off.  And it's consistent with pandemic contracts, i.e., higher in '22 than '21, to recognize the fact that MLB teams are expected to either make less money, or lose money in '21, assuming they can reach agreement with the MLBPA to play all or part of the season.  Also, during this period, the large market teams have a bigger financial advantage over small/mid-market teams than usual, which is already considerable.
While other players may try to negotiate the kind of contract Bauer agreed to, few others can successfully make it work, imo.  One of the reasons for this is security.  Bauer feels he doesn't need that security, and he's shown that his training methods allow him to remain healthier than most other pitchers, and pitch more innings.  So, in that regard, he's pretty unique, until other players attempt to follow his training regimen.  And, accordingly, Bauer trusts that his body will hold up and that he can pitch on essentially year-to-year contracts, and benefit by getting paid peak dollars during his peak physical years.
As I've noted, what I don't like is that the Dodgers aren't being charged for those peak dollars, but rather an average that includes a substantially reduced salary in the third year that no one expects Bauer to play.
Here's playoff odds from a Fangraphs' article.  I can't remember the last time the Indians' chances were considered this unlikely.
Watching the Padres lock up Tatis, I wondered to myself if the Padres were a much bigger market. Instead I came out feeling a bit angry. 
This is looking at 2019 figures for attendance and ticket price, as well as media reports for cable contracts. The Padres don't appear to make a lot more than the Indians! 
$31.18 avg ticket price x 1.738m fans =
$54m in gate revenue for Indians
$22.22 avg ticket price × 2.396m fans =
$53m in gate revenue for Padres
Indians cable contract = $40m/year
Padres Cable contract = $50m/year + 20% ownership stake in network (unknown how much that generates)
Either that ownership stake generates a lot more than we know, or the Indians are absolutely being shown to be dastardly cheap by the Padres. In an offseason where we had to trade our star SS, the Padres are locking theirs up. 
In 5 years, who knows. Maybe the Padres will end up regretting these deals with Machado and Tatis (they get out of the Myers deal next year, the Darvish deal after that, and the Hosmer deal 2 years after that. They're at around $160m right now, and we shall see if that is a sustainable payroll level for them, or if they end up having to trade useful players to get to a more comfortable spending level. They have a number of players working through arbitration or coming up on free agency (Paddack, Snell, and Clevinger being notable ones) that may get squeezed out if the team suddenly can't afford them. 
Here's a list of roster and non-roster invitees to spring training, compiled by IndiansProspective.com.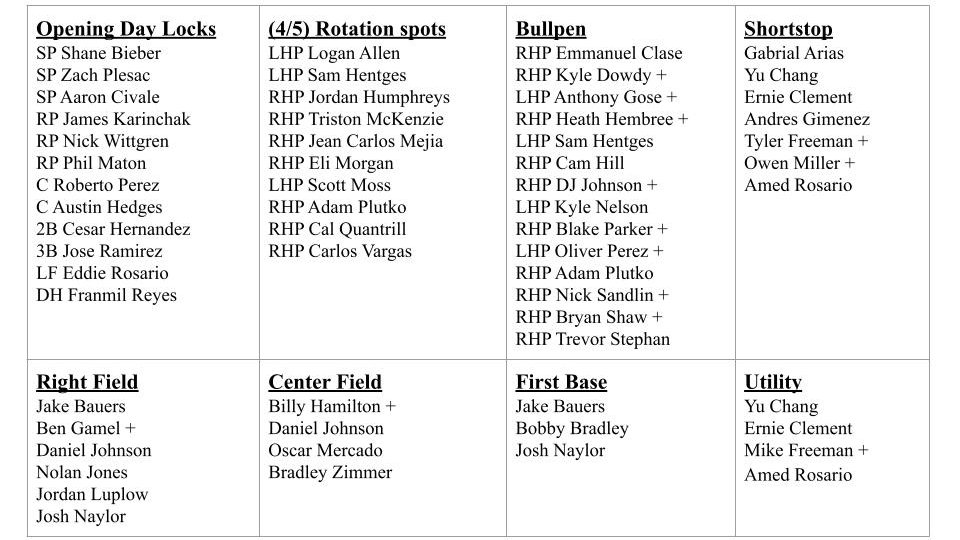 In the never-been-in-better shape category of the Indians' 2021 spring training, Roberto Perez has reportedly lost 25 lbs, Bobby Bradley 25 lbs, and Logan Allen 35 lbs (down to 205). 
Allen the elder apparently worked out at the Indians' Arizona complex this offseason and focused on nutrition and repeating his pitching mechanics.  He described his new SL as being pretty unbelievable.  He's stretched out to 65-70 pitches.
Fangraphs gives Allen's SL a PV/FV grade of 45/50.  So, if he's improved that pitch, combined with a plus CH, it might help him compete for the final spot in the rotation, or at least provide a quality depth option.  In theory, a pitch repertoire that includes a good CH and SL, allows a SP to compete against both RHH and LHH.
I would not be surprised if they deploy multiple long relief options at the outset of the season. I don't worry so much about Civale, Bieber, or Plesac's workload. The team made a big deal about how them and the other starters at the time (Carrasco, Clevinger, I think also Plutko) spent time in isolation making sure to get regular work in at local parks or whatever. So I would not be surprised if those three are not limited from day 1. Which would leave the 4/5 spots to have maybe a piggyback type situation. My theory is:
McKenzie/Quantrill is #4
Allen/Plutko is #5, which gets skipped occasionally 
That would leave spots for 6 relievers. One I would assume is Stephan (rule V) who could also do some long/middle relief. Then I would assume Karinchak, Clase, Wittgren, and Maton. With the other spot going perhaps to a lefty.
Of course, this being a Tito team, I'm sure they'll end up somehow putting in Bryan Shaw and Heath Hembree.